Near La Flotte en Ré
Located 18 km from the campsite, La Flotte-en-Ré is one of the oldest villages on the island.
La Flotte-en-Ré has been identified as one of The Most Beautiful Villages in France. Over the years, it has proudly maintained its appearance with its narrow streets and alleys full of flowers, its small white houses, its medieval-inspired market and its small port, covered with terraces when the weather is fine.
The port, a charming place
Originally, La Flotte-en-Ré was a trading port for salt and wine. In the Middle Ages, salt was exported before vine growings was introduced by the monks of the Abbaye des Châteliers.
La Flotte subseqently became a fishing port and then a marina. Today, sailing ships with old rigging, yachts and small fishing boats have taken the place of ocean-going vessels. Walkers have replaced the boatmen. Small bistros, restaurants and ice cream parlours have replaced warehouses on the quays. It has become a great place to stroll around!

The medieval-inspired market
It is said to be the most beautiful market on the island and it is undoubtedly the most atypical of all of them!
And for good reason, you will feel like you have stepped back a few centuries when wandering around the paved courtyard, between the wood-covered stalls where all the colours and scents of the land are mixed: fleur de sel, oysters, wines, local cheeses, organic fruits and vegetables… an essential visit during your holiday on the Ile de Ré!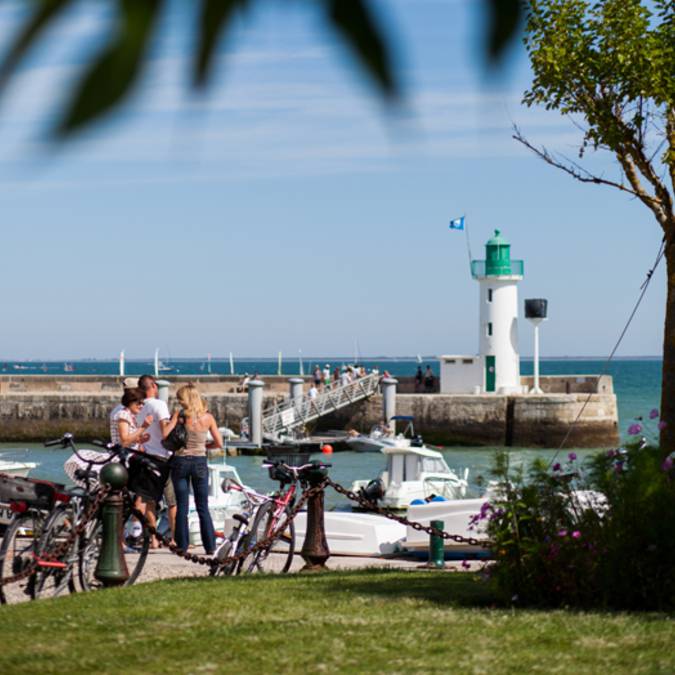 The floating heritage
If you are a fan of art and history, you will be eager to discover the ruins of the Abbaye des Châteliers founded in the 12th century by Cistercian monks, the Fort de la Prée – the oldest military fort on the island – built in 1625 under the reign of Louis XIII and then reworked by Vauban a few years later or the Church of Saint Catherine of Alexandria (15th century) which stands in the heart of the village.
If you'd like to find out more about the history of the island, you can visit the Maison du Platin museum to discover the island's maritime and popular traditions.

Your 5 star campsite to visit La Flotte-en-Ré
Are you wondering where to book your next camping holiday near La Flotte-en-Ré?
The 5-star Le Cormoran campsite offers you its modern and comfortable mobile homes or large pitches for your tent, caravan or camper van. Check what we have available!