In Charente-Maritime, on the way to your camping holiday, take the opportunity to stop in La Rochelle to discover this beautiful city of Art and History, take a day to walk around, be a culture vulture and enjoy a few relaxing breaks on its café terraces.
This is a chance to really take time to relax and explore!
The Old Port of La Rochelle
45 km from the campsite, La Rochelle is charming city offering a range of activities for the whole family and a rich heritage to discover round every corner.
The first place to go is the Old Port with its famous towers: the Saint-Nicolas tower, the Chain tower and, a little further on, the Lantern tower.
A short walk away, the Aquarium is also worth a visit. Unless you'd prefer to enjoy the lively quayside and terraces.
The Old Town and the historic districts
From the old port, you can continue your walk to the heart of the Old Town, passing under the Porte de la Grosse-Horloge. You will see the Hôtel de la Bourse built in the 18th century in the Louis XVI style, the Maison Nicolas Venette with its facade decorated with statues of famous doctors from antiquity, the Saint-Louis cathedral and the Maison Henri II.
And then there are the museums! You have quite a choice: the Natural History Museum, the Museum of Fine Arts, the New World Museum, the Maritime Museum… If you love history and have an insatiable thirst for culture, you will be in your element! If not, you can go shopping in the Arcades or picnic and play with the kids in Charruyer park!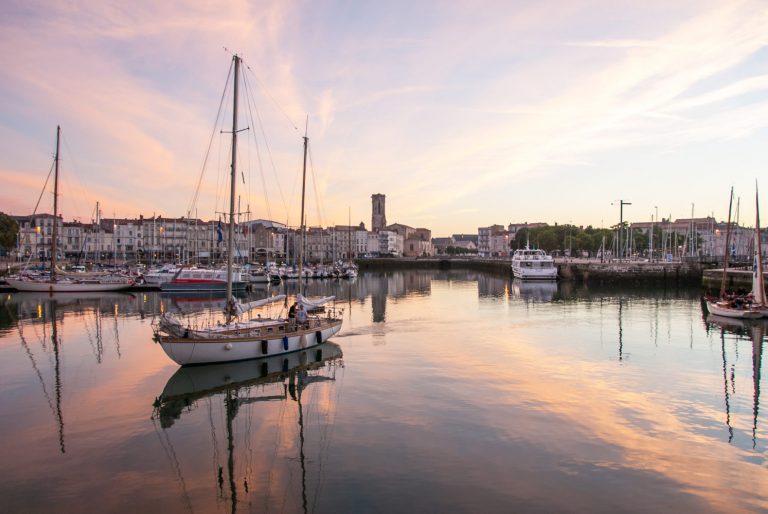 All the ingredients are there for a great day out with your family and to start your camping holiday in the best way possible if you're heading to Ile de Ré! To help you prepare for your stopover in La Rochelle, find out what to see and do in La Rochelle.
The 5-star Le Cormoran campsite welcomes you in its modern and comfortable mobile homes or on large pitches for your tent, caravan or camper van.
.