Near Loix, an artisan village
Situated about 10 km from Le Cormoran campsite, the village of Loix is the perfect link between land and sea on the Ile de Ré.
It is also a village with the Cittaslow label. In other words, you will be invited to take your time and even while away the time. And there is no shortage of ways to do this in Loix!
A holiday in tune with nature!
Loix is a peninsula within the island, nestled between the salt marshes and the ocean, as if lost in the middle of a wilderness capable of disorientating the more curious camper. The salt marshes on the banks of the Fier d'Ars are a good example.
A flourishing activity on the peninsula in the early 15th century, salt production ensured the prosperity of the small port of Loix for a long time. Even today, a hundred or so salt workers continue to harvest the white gold, the delicate fleur de sel which blooms on the surface of the marshes.
To find out more, we recommend a visit to the Loix salt marshes.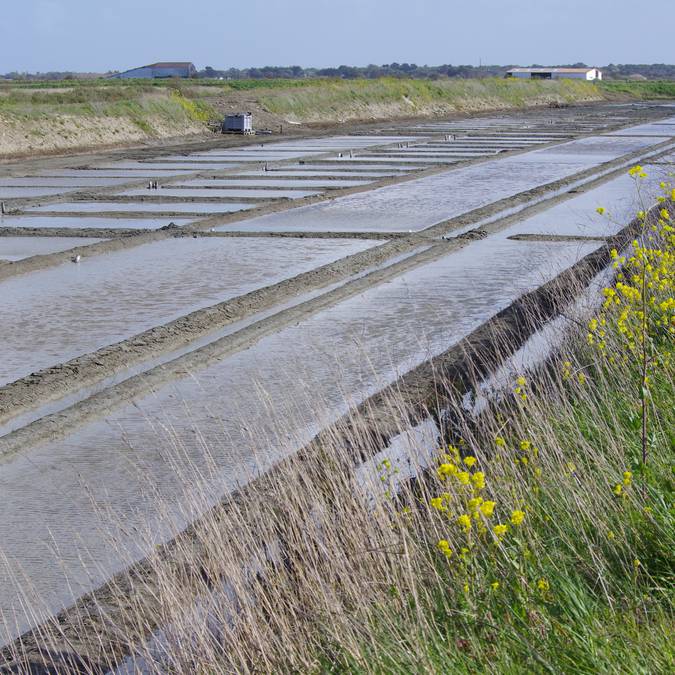 The cultural heritage of Loix
Do you love local produce or cultural visits? Loix offers plenty to satisfy your curiosity. You could explore La Verdonnais, one of the 13 fish locks that still exist on the island of Ré, visit the church of Sainte Catherine and the tide mill located on the small port, and walk around the fort of Grouin. Now converted into a home, the Grouin Battery was built in 1742 on the foundations of an 18th century military fortress.
For a change of pace, take advantage of your camping holiday to visit the Chèvrerie de Loix; the Quillet workshop, specialising in the conservation, restoration and binding of old documents; the Abeille de Ré, a traditional honey farm, or Loix & Savons, the only soap factory on the island that uses whole and natural donkey milk.
Loix really is an authentic artisan village and it is worth spending time there.

Camping near Loix
Still trying to decide where to stay on the Ile de Ré?
Check what we have available and book your accommodation in our 5-star campsite near Loix, only 15 minutes away by car! You can choose a mobile home, or a camping or caravan pitch in the sun or semi-shade, in the heart of our little haven of peace and nature!